Since you asked. Bella came to us via the Rabbit Residence, the most wonderful rabbit shelter in southern England (in my humble opinion) and you can read more about them here:
http://bunniestotherescue.blogspot.com/
Thankfully Bella doesn't have a very sad story, she was just, how shall we say "unplanned".
An elderly and disabled lady bought two buns for companionship. As is usual, the pet shop didn't sex them right, or advise her on neutering, and before you could say "breeding like rabbits" she found herself over-run with baby buns and unable to take care of them. The lady struggled on valiantly for quite some time: Bella is from an early litter, and is about 18 months old, but started to realise she couldn't cope so called the rescue to help. They are in the process of rehoming 10 bunnies from this lady. And they've also talked her into fixing the ones she wants to keep and can cope with.
A happy ending for Bella, and us.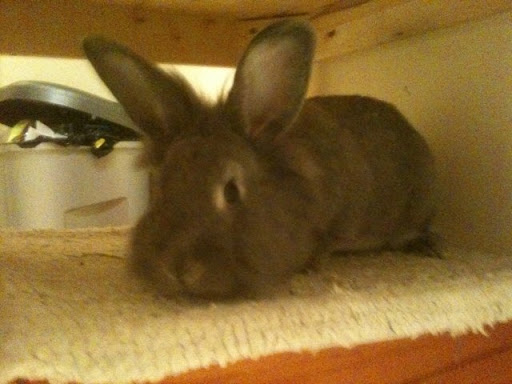 Bella is doing ok, but extremely nervous still especially of all the weird noises our house makes. She feels safe sitting on top of her house though. She loves head rubs, kale, readi-grass and broccoli!